Today, I ran the Melbourne Marathon. My time was 5hrs 10min, which was a bit slower than I expected. But the goal was to complete it, and that I did. It was really, really, REALLY hard. I was going fine until about the 32km mark feeling strong and cruising, when muscles in my legs started to cramp and had to switch to alternating between walking and running for the remaining 10km. I can still walk, but it's a bit like The Mummy, all stiff-legged and slow. (Update: looks like I listened to too much well-intentioned advice and drank far too much water, resulting in a classic case of hyponatremia.)
Last year when I ran the half marathon, I said that I wanted to lose another 20kg before the full marathon. Unfortunately I only lost 5 of those 20, and really felt it in the latter stages. Looking on the bright side, I lost a shade over 3kg during the race 🙂
It feels really good to have achieved such a huge personal goal. But I don't think I'll do it again. I may run more marathons, but with more preparation, and definitely not until I've reached my goal weight of 83kg or less. What I won't do again is run for five hours, the last two in serious pain. That's just nuts.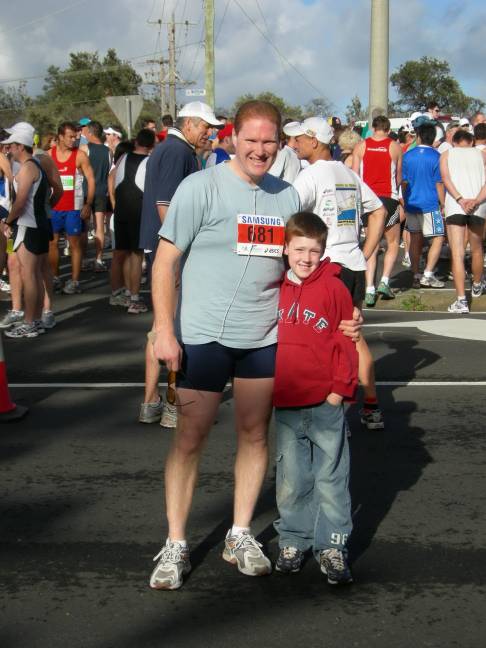 Daniel with me at the start.
Footnote: The weather was absolutely perfect! A bit of drizzle at the start, 10 deg C, bright and sunny with a max of 17 by the time I got to the city, and a howling (20-30kt) cool southerly the whole way. I only caught a bit of a headwind after turning at the Beach Rd-Nepean Hwy roundabout, and then only for a couple of minutes. The rest of the time the wind was at my back and constantly cooling me down. A runner could not ask for more! Especially after a week of high-20s and more 25-30 days forecast for the coming week.
Stats from the heart-rate monitor:
| Km | Time | Av HR | Notes |
| --- | --- | --- | --- |
| 1 | 5.25 | 152 | Too Fast! Slow down! |
| 2 | 5:33 | 142 | Still a bit fast, but the HR is settling |
| 3 | 5:58 | 143 | That's more like it! |
| 4 | 5:54 | 145 | |
| 5 | 6:07 | 146 | |
| 6 | 6:08 | 147 | |
| 7 | 6:06 | 145 | |
| 8 | 6:09 | 148 | HR still a little high |
| 9 | 6:09 | 147 | nice and steady |
| 10 | 6:19 | 147 | |
| 11 | 6:35 | 148 | drinky |
| 12 | 6:09 | 147 | |
| 13 | 6:11 | 147 | |
| 14 | 6:15 | 152 | |
| 15 | 6:23 | 152 | |
| 16 | 7:06 | 149 | toilet break 🙂 |
| 17 | 6:35 | 150 | |
| 18 | 6:37 | 151 | |
| 19 | 6:39 | 152 | still feeling great |
| 20 | 6:54 | 158 | getting into the hills |
| 21 | 6:58 | 159 | hills |
| 22 | 7:03 | 158 | more hills |
| 23 | 6:46 | 157 | a few downhills 🙂 |
| 24 | 7:41 | 159 | I'm really sick of these hills |
| 25 | 7:07 | 159 | still more hills |
| 26 | 6:48 | 167 | need to slow down again |
| 27 | 7:44 | 157 | better |
| 28 | 6:42 | 165 | too fast again |
| 29 | 7:36 | 154 | much better, feeling great |
| 30 | 9:35 | 153 | stopped to see Deb and the kids at South Rd |
| 31 | 7:53 | 155 | slowing a little, starting to feel sore |
| 32 | 9:28 | 145 | had to start walking halfway through this one. The cramps have hit. |
| 33 | 8:39 | 138 | cramps marginally better |
| 34 | 8:51 | 137 | well, at least I'm not going too fast anymore! |
| 35 | 9:37 | 127 | really struggling |
| 36 | 9:50 | 134 | more walking than running now |
| 37 | 9:07 | 139 | a bit more running |
| 38 | 8:53 | 145 | able to do a bit more running. Hi Bobby! |
| 39 | 8:58 | 143 | still doing a bit more running, but it's barely faster than walking… |
| 40 | 8:54 | 140 | |
| 41 | 9:23 | 134 | cramps are bad, just walked this one |
| 42 + 0.2 | 11:21 | 135 | managed to run the last 200m! glad that's over |
| Total: | 5:10.06 | 149 | |